Legionella Control Consultancy
Houseman Environmental Ltd can offer a wide range of support and consultancy services
Independent Legionella Audits
Houseman's independent legionella audits have been developed to give you and your organisation the confidence that your existing Legionella control systems and practices are compliant with current good practice procedures and latest relevant legislation. They also help to ensure that when required, you can demonstrate to the controlling authorities that your management systems and procedures are fully compliant.
It's easy to assume that your organisation has an adequate system in place for the control of Legionella and other pathogenic micro-organisms, that is, until something goes wrong! When such a situation occurs it can often prove to be a very traumatic experience for all those involved.
System Compliance
Houseman Environmental's independent Legionella audits can give you the comfort that your Legionella control systems and practices are compliant with current good practice procedures and the latest relevant legislation. Our independent audits examine not only the management systems you currently have in place, but can also clarify the roles, responsibilities and duties of managers, consultants and contractors involved in the management and hygiene processes.
An independent audit will examine your systems and processes before making detailed site-specific recommendations. This normally involves a review of your existing "risk assessment" (if you have one; if not, it may be necessary to create one), checking your existing procedures against best practice and current legislation, and making specific recommendations to enable compliance.
Regulatory Non Compliance
For sites that are non-compliant, the auditor would work closely with the client and their consultants to ensure that a compliance plan is created and implemented as quickly as possibly.
Existing Systems
For sites with an existing "risk assessment" the auditor's role would normally be to ensure that the client's staff and any water treatment service providers, consultants and contractors discharge their agreed duties.
Independent Auditors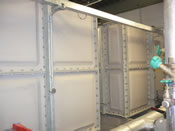 This independent role of the auditor ensures that those with ultimate responsibility can demonstrate that they are fully compliant with current best practice procedures and relevant legislation.
The benefits of using a truly independent auditor are numerous and include:
Confidence - demonstrate to the authorities that your existing control systems and procedures are fully compliant with current best practice and relevant legislation.
A fresh approach by an experienced industry specialist can often spot those overlooked potential problems.
A truly independent, unbiased review free of any conflicts of interest ensures that you get what is best for you and your organisation.
Houseman Environmental Ltd's audit services are ideal for building owners, health and safety managers, real estate and facilities managers, engineering contractors, water treatment service providers and more.